What methods can be taken to prevent from being tracked by the GPS tracker which can always know your position? People are really sick of such situation and for a long period are looking for a equipment that owns such kind of ability. And here this Skyblue Handheld GPS (GPS L1/L2/L3/L4/L5) Signal Blocker can be a good choice.
On one hand, unlike many other GPS signal blocker only owns the ability of cut off the signals of just one or two GPS signal frequency bands, this handheld GPS blocker can block the signals of GPS L1, GPS L2, GPS L3, GPS L4 and GPS L5 at the same time with the jamming radius up to 15 meters according to the signal strength in the given area. Since the size of the device is 113*60*31mm and the weight of only 0.275KG, which make the GPS jammer highly portable to take.
And the design of built-in fans and wind slots on two sides design and inside coolers make a constant cooling working. With 1800mA/h built-in battery used as the power supply, the working time of the battery is up to 1 hour. Designed with car adapter enables the car owners use this handheld GPS block conveniently in the car while driving.
This product is in stock now, we guarantee shipping within 48 hours and offer 1 year warranty for all our products. Brought to you by the leader in security devices and best Signal Jammers, JammerFromChina.
Manufacturer Specifications
Affected Frequency Bands

-GPSL1:1500-1600MHz
-GPSL2:1220-1230MHz
-GPSL3:1200-1210MHz
-GPSL4:1250-1280MHz
-GPSL5:1170-1180MHz

Jamming Types

GPS L1L2L3L4L5

Power Supply

AC110-240V /DC12V

Total Output Power

Up to 2Watt

Battery

Built-in Battery: 1800mA/h

Built-in battery time: 1hour

Jamming Range

2-15m (depending on the mobile service provider's network condition)

Signal source

Synthesized operation

Working temperature

-10 ~ +50 degree centigrade

Relative Humidity

5%-80%

Device size

113*60*31mm

Net weight

0.275KG

Color

Skyblue
This item is a portable GPS jammer. If you are looking for a desktop full GPS bands jammer, please see the item JFC-021-0051 (7W Powerful Desktop Style All GPS Signals Blocker).
Package Contents
1 x Portable GPS Signal Jammer
1 x AC Charger
1 x Car Charger
4 x Antenna
1 x Carry Case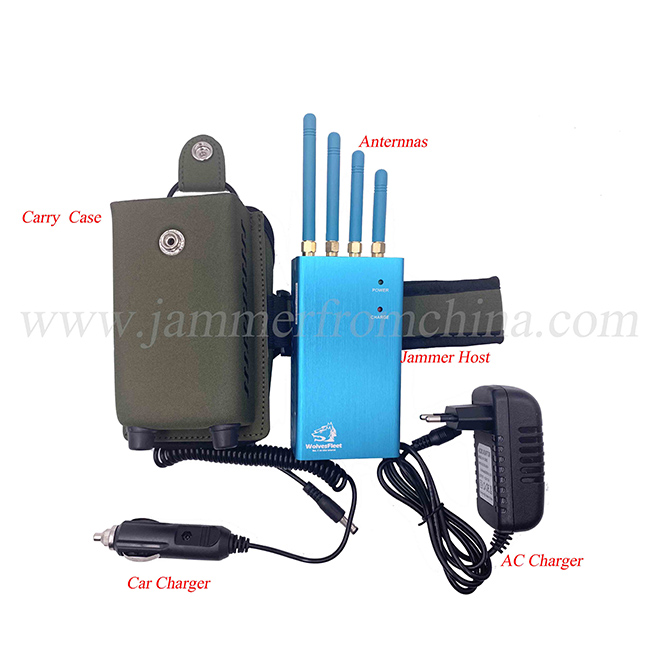 Important Notes for Jamming Distance: The jamming distances we mentioned on website are for customer's reference only. The actual jamming distance will be varied depending on the signal strength and the use location and if full charges, etc.
Important Notes for Portable Jammers with No Cooling Fan: Do not use the jammer when it is charging, or it will burn the jammer as it has no built-in fan. If because of this factor due to the broken of the jammer, the customer will lose the authority of free repairation .