Being fed up of being tracking by the GPSL1 tracker, GPS navigator, GPS L1 logger that installed in your car and keep strong idea in mind to get rid of being tracked? Want to solve such kind of problem this Mini GPS Signal jammer for Car Using is just designed for such kind of usage, and is only designed to be used when you are driving the car.
This car using GPS jammer can help you a lot when you do not want others to know where you are by using the GPSL1 tracking device as just by using this GPS signal jammer the as the working principal of it is as follows since it can block the signal receiving of GPS device by interfering with it and cutting the connection between the GPS device and its satellite. By this way, the GPS will not record the car locations and routes. That is purpose we want to use it for us. Thus in this way your privacy will not be risked and given out by others.
And the jamming distance is up to 20 meters at most, having such kind of problem of getting rid of being tracked by the GPS L1 tracker in your car, this car using GPS jammer is the suitable device.
For more information about GPS jammer, welcome visit our GPS jammers page.
This product is in stock now, we guarantee shipping within 48 hours and offer 1 year warranty for all our products. Brought to you by the leader in security devices and best Signal Jammers, JammerFromChina.
Manufacturer Specifications
| | |
| --- | --- |
| Affected Frequency Bands | -GPSL1 1500-1600MHz |
| Jamming Types | GPS L1 |
| Jamming Object | GPS L1 tracker, GPS navigator, GPS L1 logger |
| Output Power | 21 dbm / 128mW |
| Typical Coverage | 2 to 10 meters |
| Signal Source | PLL synthesized |
| Power Source | 12V-24V |
| Working Current | 100mA |
| Antenna Interface | 1 x Omni SMA antenna 3dB gain |
| Dimensions | 80 x 21 x 21 mm |
| Operating Temp | 0 ~ 50 degrees |
| Humidity | 5% ~ 80% |
Notice: This JFC-022-0006 jams GPS L1 ONLY. If you want to block all other GPS Bands L1L2L3L4L5, please take the item Skyblue Handheld GPS (GPS L1/L2/L3/L4/L5) Signal Blocker (JFC-020-0038) as a reference.
Package Contents
1 x Jammer Host
1 x Antenna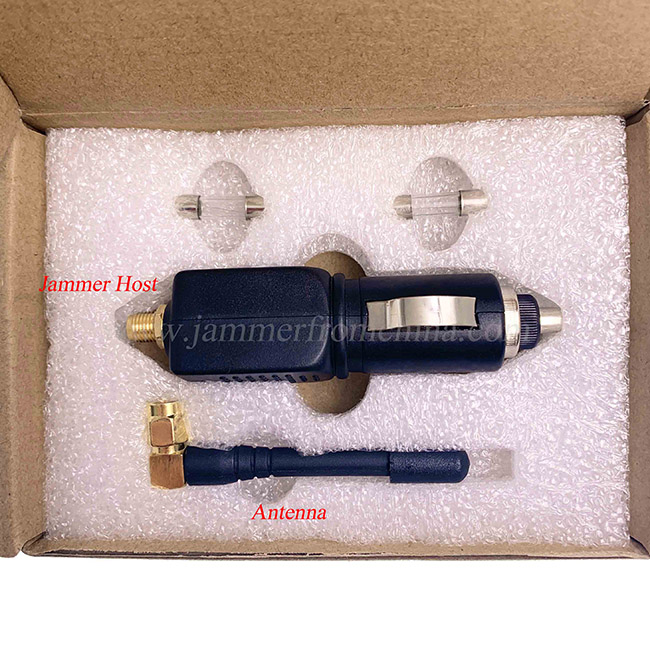 Important Notes for Jamming Distance: The jamming distances we mentioned on website are for customer's reference only. The actual jamming distance will be varied depending on the signal strength and the use location and if full charges, etc.
Important Notes for Portable Jammers with No Cooling Fan: Do not use the jammer when it is charging, or it will burn the jammer as it has no built-in fan. If because of this factor due to the broken of the jammer, the customer will lose the authority of free repairation .