This Powerful 6 Antennas Portable Selectable WiFi Blocker 3G/4G Cell Phone Blocker has a wide affected frequency ranges to include CDMA/GSM, DCS/PCS, 3G, 4G LTE, 4G Wimax and Wifi. It also has a jamming range up to 20m, depending on the signal strength in the given area. Within the range, just turn on the jammer, all wireless connection to 2G, 3G, 4G or Wifi network will be disabled at the same time. Also, the jammer is a selectable unit. In other word, user can choose to allow operation of one or a few of frequency bands. Adjustment of ON or OFF any of the single bands will not cause any disruption to the operation of others. Owning this jammer, you will have both a cell phone jammer and a WiFi jammer. Besides, it comes with a portable carry case, so it's more easier for you to take it to anywhere.
This product is in stock now, we guarantee shipping within 48 hours and offer 1 year warranty for all our products. Brought to you by the leader in security devices and best Signal Jammers, JammerFromChina.
Manufacturer Specifications
Affected Frequency

-CDMA/GSM: 850 to 960MHz
-DCS/PCS: 1805 to 1990MHz
-3G: 2,110 to 2,170MHz
-4G LTE: 725-770MHz or 790-825MHz
-4G Wimax: 2345-2400MHz or 2620-2690MHz
-WiFi: 2400-2500MHz

Jamming Types

CDMA, GSM, DCS, PCS, 3G, 4G, WiFi 2.4G & Bluetooth

Power Supply

With AC adapter (AC100-240V-DC12V),7.4V 4000mA/H battery

Total Output Power

5.5W

Battery

Charging time: Around 5 hours

Using time: About 90 minutes

Jamming Range

Up to 20 meters (depends on the signal strength in the given area)

Dimension

156x 88 x 46mm (Jammer body without antenna)

Inner box dimension

280*260*110mm

Weight

0.5kg(Jammer Body With Antennas), 1.5kg(Full Set)
If you are looking for a jammer that also blocks 5.8GHz WIFI, please see the JFC-021-0126 (4W Powerful Selectable Portable 2G 3G 4G Phone Jammer and All WiFI Signals Jammer (2.4G,5.8G)).
Package Contents
1 x Portable GSM 3G 4G WiFi Jammer
1 x AC Charger
1 x Car Charger
6 x Antenna
1 x Carry Case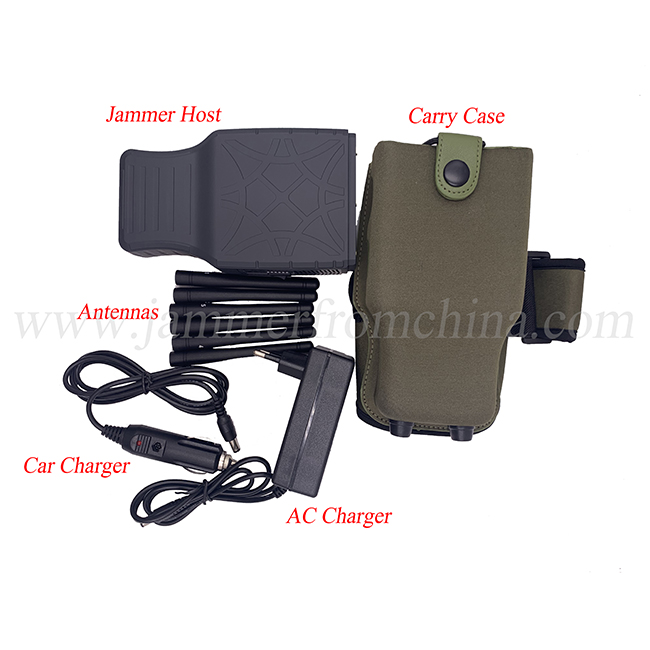 Important Notes for Jamming Distance: The jamming distances we mentioned on website are for customer's reference only. The actual jamming distance will be varied depending on the signal strength and the use location and if full charges, etc.
Important Notes for Portable Jammers with No Cooling Fan: Do not use the jammer when it is charging, or it will burn the jammer as it has no built-in fan. If because of this factor due to the broken of the jammer, the customer will lose the authority of free repairation .