The Portable Hidden 16 Antennas 5G Cell Phone Jammer WiFi GPS UHF VHF RC Signal Blocker affects all types of Android phones, Tablets, Smart Phones, iPhones, Win phones etc. that use 2G, 3G, 4G and the newest 5G cell phone signal. This signal jammer blocks LOJACK GPS, Wi-Fi 5G, Walkie-Talkie UHF/VHF and RF signals like 315, 433, 868. It contains two sets of antennas, one is the shorter antennas set, which can be hidden in the antenna cover, easier to carry and private to use. Another one is a set of longer high gain antennas, which make the device effects better. Compared to previous jammer devices, its new design with a battery LCD display, you can easily know the left battery capacity.This new designed jammer is popular in 2020 and in years to come.
Advantages
1. Hidden antenna handheld design;
2. 16 bands all-in-one frequencies blocking all cell phone signals including the newest 5G, LOJACK GPS, Wi-Fi, RF signals;
3. 12 watt high output power, Jamming range 2 to 20 meters (at-75dBm, depends on signal strength in given area);
4. two sets different length antennas used in hidden or have better jamming effect;
5. Battery capacity LCD display (Capacity percentage, working Voltage/Current ABS Shell with good cooling system with cooling fans inside and bigger hot sink, temperature lower than 50℃
6. With DIP switch, can turn on/off any signal band without affect other bands;
7. With car charger, 12V DC/AC power supply is also available;
8. With built-in bigger battery, can work more than (2.0+ hours) 120 minutes, Easily repeated charging.
Application
1. It can be applied at meeting rooms, conference rooms, museums, galleries, theatres, concert halls, churches, temples, restaurants, classrooms, training centers, factories, banks, trains, bus and more Places that require silence, confidentiality and information security
2. For some locations of special purpose such as hospitals, gas stations and more, please do field test first to make sure no interference
This product is in stock now, we guarantee shipping within 48 hours and offer 1 year warranty for all our products. Brought to you by the leader in security devices and best Signal Jammers, JammerFromChina.
Manufacturer Specifications
Affected Frequency Bands

1. CDMA&RC868&GSM: 851-960MHz

2. DCS&PCS: 1805-1990MHz 

3. 3G 2100: 2110-2170MHz 

4. 4G 700: 700-803MHz or 758-826MHz

5. 4G2300 or 4G2300: 2500-2690MHz or 2300-2400MHz

6. RC315: 315MHz

7. RC433: 433MHz

8. 5G LTE: 3400-3800MHz

9. 5G LTE2: 617-685 or 758-826MHz

10. WiFi 2.4G&4G2300: 2345-2500MHz

11. WiFi 5.2G: 5100-5500MHz

12. WiFi 5.8G: 5500-5900MHz 

13. GPSL1: 1570-1580MHz

14. GPSL2L3L4L5: 1170-1390MHz

15. VHF&Lojack: 135-174MHz

16. UHF&CDMA450: 450-470MHz 

Jamming Types

CDMA, GSM, DCS, PCS, 3G, 4G, 5G cell phone, WiFi 2.4G & Bluetooth, WiFi 5G, GPS L1L2L5, RC 315 433 868, VHF, UHF, Lojack

Power Supply

Adapter 50 to 60Hz AC (110-240V AC/12V DC)  Car Charger: DC12V IN

Total Output Power

12W

Shielding Radius

(2-20) meters at -75dBm (Still depends on the strength signal in given area)

Built-in Battery

7.4V/12000mAh

Continue working: more than 2.0+ hours

Dimension

(length,width, height) 280x130x46mm (include hidden antenna)

Length Of Antenna

166mm

Gain:2.0dbi

Packing Size

330*250*80mm

Net weight: 1.5kg

Gross weight: 2.0kg
Package Contents
1 x Jammer Host
1 x AC Charger
1 x Car Charger
1 x Antenna Cover
16 x Omni antenna
16 x External high gain antenna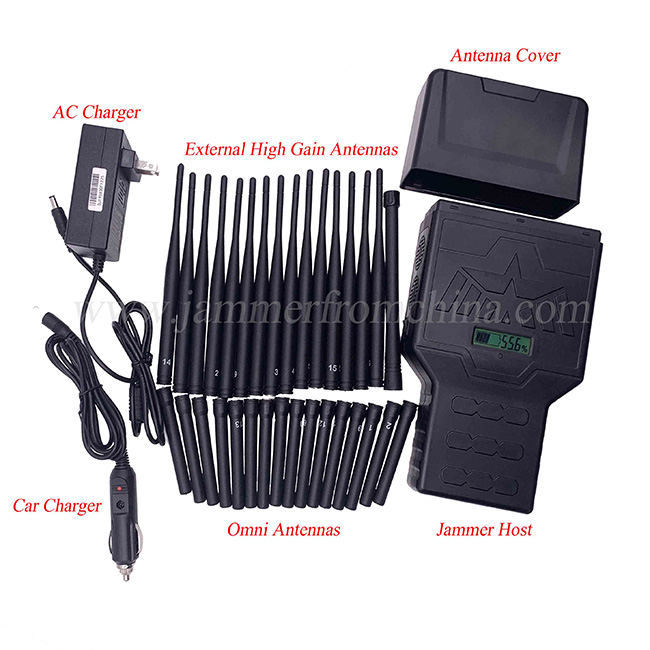 Important Notes for Jamming Distance: The jamming distances we mentioned on website are for customer's reference only. The actual jamming distance will be varied depending on the signal strength and the use location and if full charges, etc.
Important Notes for Portable Jammers with No Cooling Fan: Do not use the jammer when it is charging, or it will burn the jammer as it has no built-in fan. If because of this factor due to the broken of the jammer, the customer will lose the authority of free repairation .