Posted on 24th Apr 2013 @ 9:00 AM
Want to Gain the Adjustable Multifunctional WIFI Cell Phone Signal Jammer with a cheap price? Where and how? Just have a visit here www.jammerfromchina.com , you will know the right way, fast shipping and first class service, add with the high quality, it is the right time to get the super jammer kit.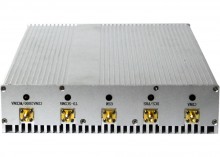 Have you been tired of those miserable fates about the non-stopping phone noises and the hidden wifi tracking or UHF tracking device? Want to get away from those terrible situations? Next you go, direct you to the right device you like. Want to gain an adjustable jammer device that can block the signals of cell phone, WIFI, 3G and UHF at the same time to solve all your problems just in one? Then just go ahead and look at this Adjustable 15W High Power 6 Antenna Cell Phone,WiFi,3G,UHF Jammer, then you goal can be easily reached. You know you like this one from here www.jammerfromchina.com
A big advantage of this jammer is that you can adjust the power of the frequency bands according to your requirements. Besides the jamming frequency bands of this jammer are wide, and the detail information is as follows. This jammer can cut off the signals of GSM 790 MHz-825 MHz, GSM 925-960 MHz, -DCS/PCS 1805-1990MHz, WiFi2.4G 2400MHz-2485MHz, 3G 2110-2170MHz and UHF 400MHz-470MHz. And with the design of the adjustable 15W output power the jamming range of this jammer is from 2 to 50 meters depending on the signal strength in the given area. You don't need to worry about the problem that this multifunctional wifi cell phone UHF 3G jammer does no effect on other electronics when you turn on the button, which means you can listen to your favorite music through the CD or watch your favorite movies without the disturbs from the outside noises, so right now right now click into our site www.jammerfromchina.com and know more details about the device, then add it into your cart with the best choice.
Understand what need to get accomplished and understand why it's so important. You will generally accomplish great things. The key lies in getting them to want to help you, which is only possible when you exhibit an understanding of what is possible, care about them, and are willing to accept the absolute best they can deliver. As for the picking out of the best selling GPS signal blocker kit, you can apply the same principle. Look at the following specifications which will make you know more, then make a wise decision. Affected Frequency Ranges: -GSM 790 MHz-825 MHz -GSM 925-960 MHz -DCS/PCS 1805-1990MHz -3G 2110-2170MHz -WiFi2.4G 2400MHz-2485MHz -UHF 400MHz-470MHz Total Output power:15 Watt Power supply: AC adapter (AC220V-DC12V) Shielding Radius: (2-50) meters@-75dBm (depend on the signal strength in given area.) Weight: 2.5KG/PCS
Are you looking for one and want to gain one right now? Just come here www.jammerfromchina.com and add one to your cart, then this high quality jammer will belong to you at the best price. The right station you should have a look at.