Posted on 19th Apr 2013 @ 9:00 AM
As is known to us, jammer is a kind of device used to block the transmission of signals from the relative networks, but very few people know the UHF jammer. What is the purpose of UHF Jammers? It's time to get to know it. As its name indicates, it is an ultra high frequency jammer device. This type of signal jammer has its frequencies for special purpose. Generally, the frequencies of UHF is between 420~480MHz.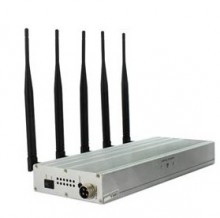 We have pushed out two new UHF jammer products in this year. The first one is the portable multi band high power VHF UHF jammer. It is specially customized to provide a fully integrated broad band jamming system which offers the ultimate solution for military defense and safety protection. The 6 modules are controlled separately and they also can work simultaneously. This multi band high power UHF and VHF jammer has 6 bands, which is optional for different uses. The suitcase-like exterior design enables it portable. The equipped fixation devices allow it to be fixed in a car. The high speed cooler fans and aluminum filter makes this UHF VHF jammer an excellent heat dispersion device, which can work for long hours continuously. Next, let's come to the other type of our latest UHF jammer-UHF VHF walkie talkie jammer. It is newly developed UHF & VHF immobilize device. The extremely strong jamming power ensures it jam and blocks UHF VHF walkie-talkie, two way radio, audio bugs and remote controls within 10 seconds. Its maximum blocking range can reach 30 meters radius. Besides, it also has perfect heat dispersion. Its cooling system enables it unlimited continuous use.
More information is available in our website. If you want to know more about it, please visit our website. We are a reliable jammer supplier with years of experience in the UHF jamming field by offering a wide range of UHF jammers which show excellent performance in all kinds of environmental conditions. With a large stock of all kinds of jammer products in excellent quality and reasonable price, we believe that our jammer products are your best choice. We provide a comprehensive product range, including cell phone jammer, GSM jammer, WIFI jammer, 3G/4G jammer, audio jammer, UHF/VHF jammer, RF jammer and high power jammer. We promise that our every jammer has undergoes several tests and inspections before you get it. We are so proud of our latest two type UHF jammers that we can't wait to share them with worldwide customers. We believe that our jammers can meet all your personal requirements. If you are in need of this kind of UHF jammer or you are just interested in it, come on and just take a look at our product list of UHF jammer. Hope you could buy a satisfactory one here.